Over the past 50 years, the Maris family has built a collaborative culture of patient-first ophthalmic care on Long Island.  Dr. Peter J.G. Maris, Jr. was fortunate to follow in the footsteps of two role models, namely his father (Dr. Peter J.G. Maris, Sr.) and his late uncle (Dr. Charles S. Maris).  Dr. Peter Maris, Sr. was the first formally-trained retinal surgeon on Long Island, while Dr. Charles Maris was the first formally-trained orbit and plastics surgeon. The Maris Brothers established a large and reputable Long Island ophthalmology practice starting in the mid-1960's.  Both brothers enjoyed decades-long careers as ophthalmology clinicians and surgeons who earned the respect and admiration from their patients and colleagues in the New York area.
In 1986, Dr. Peter Maris, Sr. moved his practice to its current 230 Hilton Avenue location, at the border of Garden City, less than a mile from the famed Garden City Hotel.  After many fruitful years with his father at the helm, Dr. Peter Maris, Jr. assumed all of the practice's clinical responsibilities in 2006.   In 2007, Dr. Maris Jr. formed Long Island Ophthalmic Care, P.L.L.C. and has remained its president and chief operating officer ever since.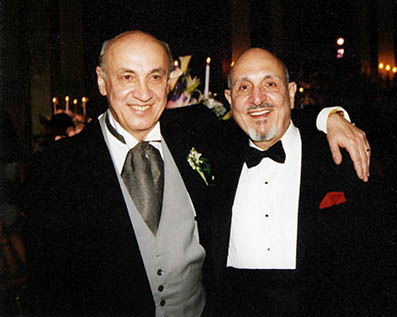 Our Doctors
Dr. Peter J.G. Maris, Jr. and Dr. Robert Lopez are proud to have attended some of the most esteemed universities and ophthalmology training programs in the country.  Each of them has been mentored by world-renowned ophthalmologists during their subspecialty fellowship training years. Together, Dr. Maris and Dr. Lopez offer a complementary skill set that  benefits their patients and allows for unparalleled continuity of care.  While Dr. Lopez is an expert vitreoretinal surgeon, Dr. Maris is one of only a handful of ophthalmologists in the entire nation who is subspecialty-trained in both glaucoma surgery and cornea surgery.
Both Dr. Lopez and Dr. Maris completed ophthalmology residency training at Columbia University's Edward S. Harkness Eye Institute, and they retain faculty appointments at that institution.  Dr. Maris and Dr. Lopez perform many of their more complicated ocular surgeries at the Eye Institute, and they pursue activities related to research and clinical education there.  Both are past recipients of the John M. Wheeler Memorial Teaching Award for excellence in resident teaching.